Home
News
ThinkTank
MORE 1.1c
MORE 3.0
MORE 3.1
Community
OPML Editor
MORE 3.1, 12/2/91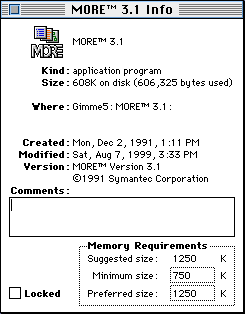 MORE 3.1 was released on December 2, 1991

Here are the changes between MORE 3.0 and 3.1 according to the Readme file supplied by Symantec.

The Installer copies the MORE 3.1 files correctly on to your computer's hard disk.

Chart Tutor helps you format a bullet chart presentation correctly for your output device.

Auto Save automatically saves any open MORE 3.1 files at a specified time interval.

Gradient Editor allows you to create gradient backgrounds and fills.

Bullet Chart Editing allows text, labeling, and formatting to be done while in bullet chart view (you no longer have to return to the outline to edit text).

Subheads are no longer required to create a bullet chart for first level headlines.

EPSF Import has been improved.

Continuation Charts have been reimplemented, due to popular demand!

Graphics can be imported directly into an outline (you no longer have to copy and paste them into the outline from the bullet chart view).

Headers and Footers may now be excluded from the first page of a document

Multiple Headline Selection -- the Selection Bar allows you to select more than one headline at a time, regardless of headline position.

Superscript and Subscript is now supported.

Custom Tabs are now supported (including decimal tabs).

Tree Charts can be automatically scaled to fit on a single page.

Tree Chart Nodes may now be expanded and collapsed while in the Tree Chart view.

Headers and Footers are now supported for Tree Charts.

Download

Please read this carefully before you download any software from this website. You may not call Symantec for support or information about these programs. There is absolutely no support available for this software. At any time Symantec can tell us to discontinue distributing the software thru this website. That makes the red text even more important. They are being very generous. If you call them and ask for support or complain about upgrades, or tell them they have done something bad, they can and should discontinue this. So please don't be selfish and spoil it for everyone else. The same goes for UserLand, and me personally. Only notes of gratitude or memories about the good old days will be accepted. Thanks for listening.

more31.sit.hqx (2723K)

When you unstuff this archive you'll get three folders:

1. Program/Installer contains the Installer, a copy of the 3.1 app, a Read Me file, and a copy of TeachText v1.2.

2. Utilities 1 contains MORE Graph™, dictionaries and translators.

3. Utilities 2 contains MORE™ Library Mover, sample files and tutorials.

Or, if you prefer disk images

more31DiskImages.sit.hqx (2751K)

1. De-compress the archive.

2. Open the MORE 3.1 Disk Images folder.

3. Double-click on each of Program/Installer.img, Utilities 1.img, and Utilities 2.img to mount these as disks on your desktop. If this doesn't work, it's probably because you don't have DiskCopy, which you need to mount disk images.

4. On your desktop, double-click on Program/Installer to open it.

5. Double-click on the Installer icon to run the MORE 3.1 installer, then follow the directions on your screen.

Docs

Geoff Heard has been marshalling MORE 3.1 docs.

Matt's Review

MORE, MORE Dinosaur.

Screen shots

Tree chart.

Scans

MORE 3.1 box: Front, Back.

MORE 3.1 refcard, page: 1
2
3
4
5
6
7
8
9
10
11
12
13
14
15
16
.

MORE 3.1 enhancements, page: 1
2
3
4
5
6
7
8
9
10
11
12
13
14
15
16
.

Pointers

Brad Pettit's MORE2Text translator. Brad was on the MORE team, versions 2 and 3.

Again, thanks to Brad, the MORE 3.1 PageMaker Files.

Coming soon, the MORE 3.1 refcard, and product shot. If you do some screen shots, please send us the URLs at webmaster@userland.com. Thanks!